With digital service Soulcenter we want to help care facilities strengthen the relationship between staff and inhabitants with dementia.
In Flanders, in 2010, there were 100,000 people with dementia. In 2020, that figure will be 130,000. For a month I immersed myself in a care facility in Zonhoven, after being invited by researchers of Dementia Lab. I learned that staff members in care homes are under pressure. Their packed schedule often makes it difficult for them to find the time or energy to get to know the residents. Also, it's difficult to build relationships with residents who have dementia because they often have a hard time telling their own story.
We co-created an application that invites family members to record the life stories of their loved ones, alongside an application for staff members to help them get to know these stories. The application is called Soulcenter.
The video below shows the first application intended for families.
Together with Open Knowledge Belgium we secured funding to build the Soulcenter app during a one-month summer student hackathon, the Open Summer of Code. A month later, we launched the app during World Alzheimer's Day. Flemish public television joined us to learn more about the app.
Now two of the students and a friend of mine are pushing the project further. We received 30,000 euros from the Flemish government to refine the application during pilot projects in the coming months.
Project background
Solution – connect family and caregivers
Soulcenter is a digital service that helps caregivers see the colorful life of inhabitants. In the service, family members of the inhabitants with dementia have an important role as storytellers. These stories live on in the care facility, helping the caregivers get to know the inhabitants better.
Below are the design principles that we agreed upon with the caretakers (in Dutch).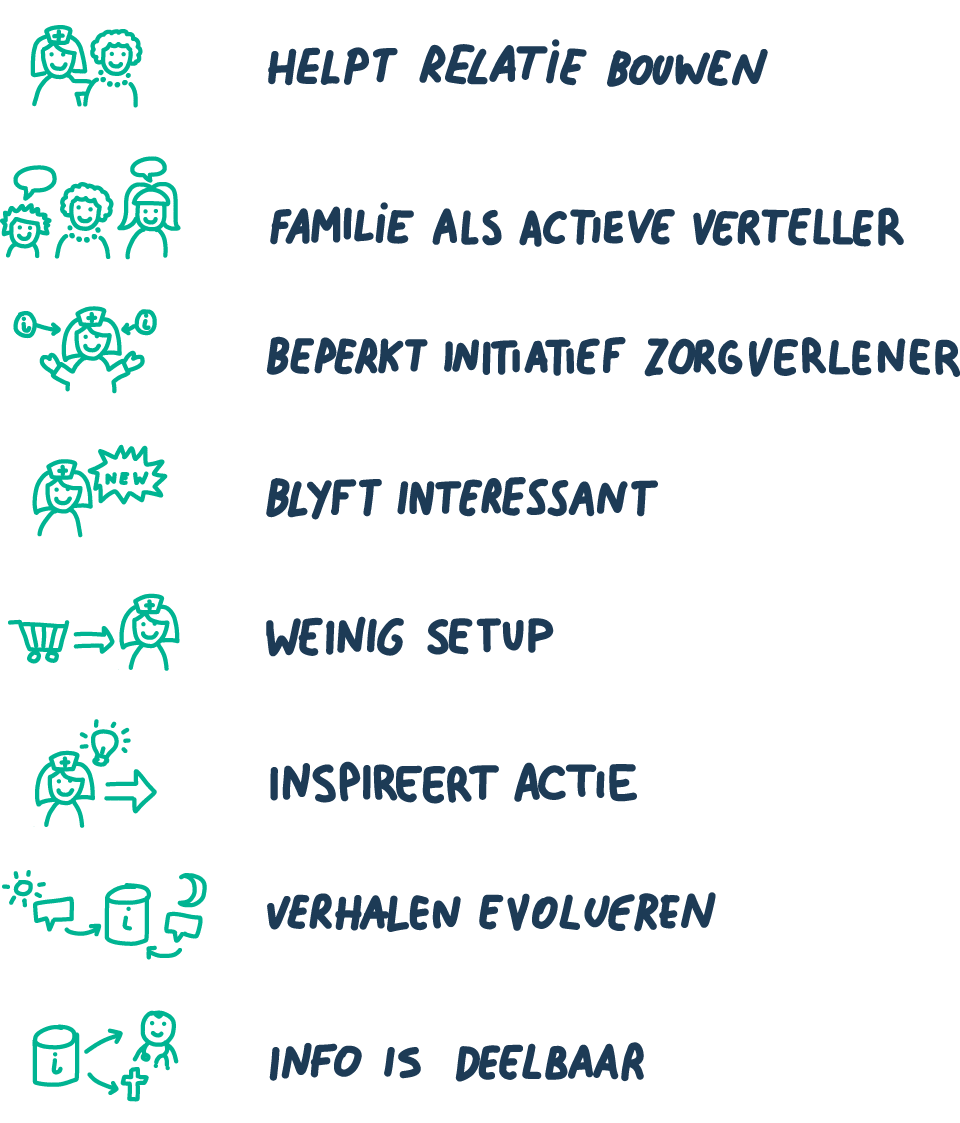 These screens are from the app that the caregivers use every day to get to know the stories of the patients.

The family plays a crucial role. They are invited to tell the story of their beloved one. Also, there's a feedback loop: they can see new stories that happen in the caretake facility.

Next step: open summer of code
We'll continue working on Soulcenter this summer, during the Open Summer of Code. It's an initiative that supports a new generation of designers and entrepreneurs to solve problems that matter.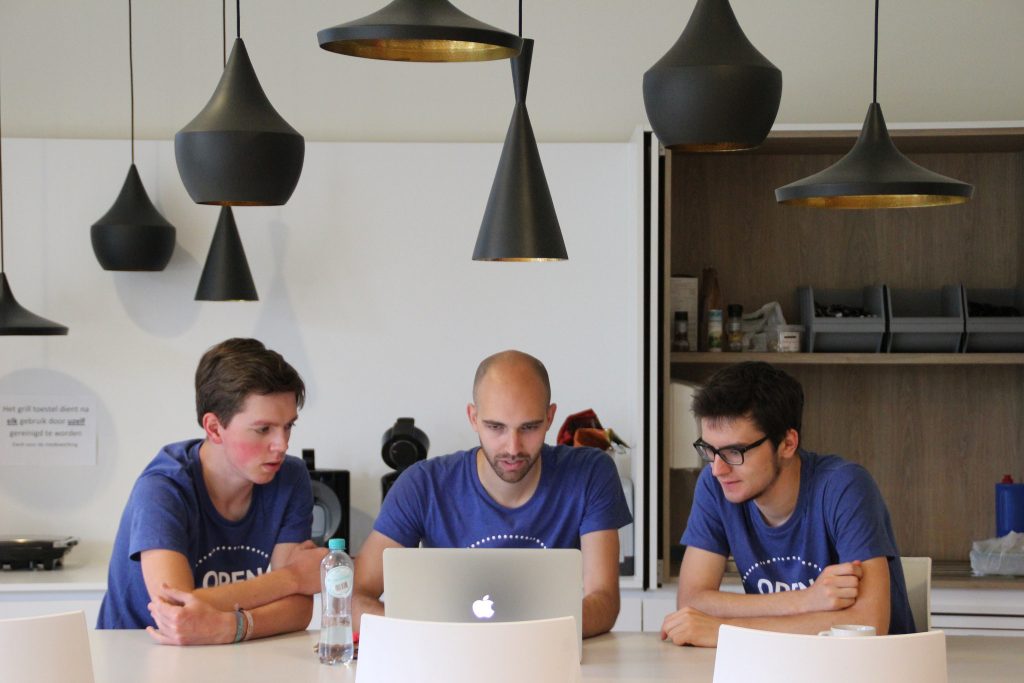 During one month, we'll create a functional version of the software with a team of four talented students. The solution will be open-source, meaning that other programmers can continue to work on it, even after the project is over.
We'll keep testing the results with caretake facilities and family members to make sure that the solution is truly valuable.
We owe much gratitude to our benefactors Open knowledge centre Arhus and Heritage Cel Terf for funding this further development of the service.
Project background: video report
For a month I worked in a caretake facility in Zonhoven together with the research team of Dementia Lab. Below are several video reports of what we learned.
The posters that we use to structure our process are from the service design toolkit.
In week two I invited fellow designer Tijs Vrolix to help look for ideas on how to improve the relationship between people with dementia and their caregivers.
In week three we chose the ideas to develop and to test with caregivers and the family of the people with dementia.
Business model
How do we make sure that people can continue working on Prisma? By finding talented people to work on it, and giving them to connections to caretake facilities to make sure that the solution is useful and usable.
In my opinion it starts there. With makers working on the right thing. Not by forming a traditional company with a salesforce. That would be too distracting.
Below I've outlined this traditional model, and an open source model where the solution gets created by software enthousiasts. The model used is a variation of the business model canvas where I added a purpose and vision.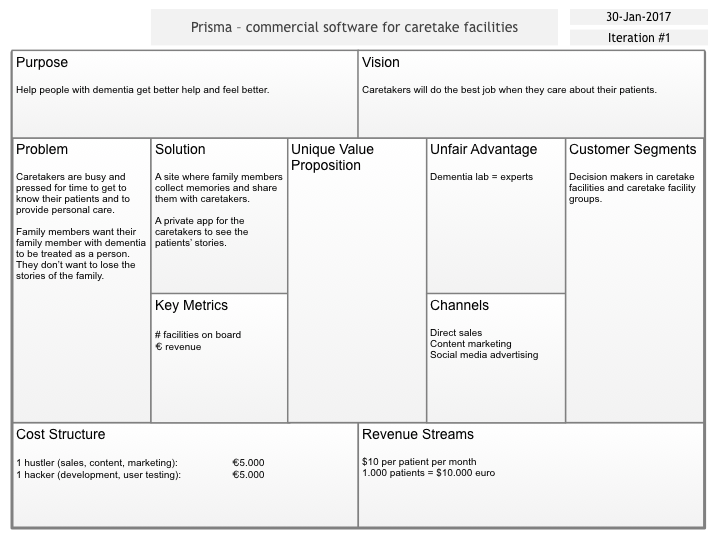 In this model the emphasis is on selling the solution to caretake facilities. It's a traditional software as a service solution. For the cost structure I've listed the absolute first minimum that two founders would need to start building the company together.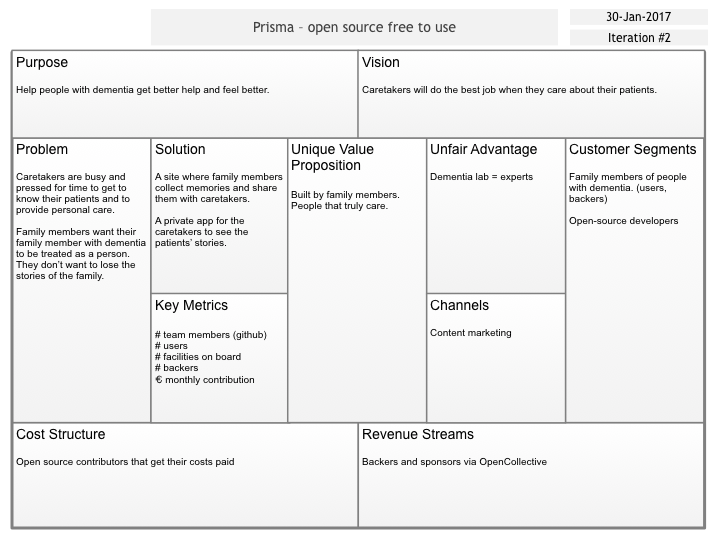 This open source model is free to use for everyone. It relies on the enthusiasm of open source developers and designers. Initially they'd work for free, investing their spare time to work on a project with a cause.
To make the project significant and sustainable, it needs budget to pay the project contributors. We could crowd-source the funding of the project via a service like Open Collective. That makes it easy for family members of people with dementia to contribute directly to the project. The team then chooses themselves how to money gets distributed.
Creating a first prototype with students
We managed to find funds to pay four students to create a working prototype during a one-month hackathon.
Where do we go next?
Now we're improving the prototype and we're testing it with even more families.