10 tips help your communication team improve workflow with PR software
As a vendor of public relations tools I meet a lot of agencies and in-house teams. They often know about the PRstack project that my team at Prezly built and published. PRstack is a crowd-sourced catalog of over 250 PR tools + 48 guides on how to use these tools.
The PR teams that I speak with are usually impressed by the amount of tools in PRstack. They tell me that their team wants to invest in innovation and wants to try some of the tools, yet they haven't gotten to it yet. The same questions keeps popping up: how do we get started with this? How do we manage the change? How do we get our team on board?
Changing workflow is hard
Improving a workflow isn't just about tools and technology, it's mostly about changing processes. And change management takes a lot of time and effort. Communications teams are generally willing to improve their workflows yet often daily work simply gets in the way.
Many teams do manage to keep up with the constantly evolving offering of new tools and techniques however. I interviewed several of those teams that are ahead of the curve and asked them how they roll out workflow improvements.
Here are 10 tips that will help you get started with PRstack and implement change:
1. Start where it hurts
How do you go through the list of 250+ tools in PRstack?
Gerry Wisniewski, a director at Edelman, suggests to start by listing the most boring and repetitive tasks that your team is doing. What do the juniors hate doing? Which jobs don't you like? These are the tasks that tools solve best.
Here's some inspiration:
You can easily browse the 250+ tools in PRstack by filtering the different tool areas and goals.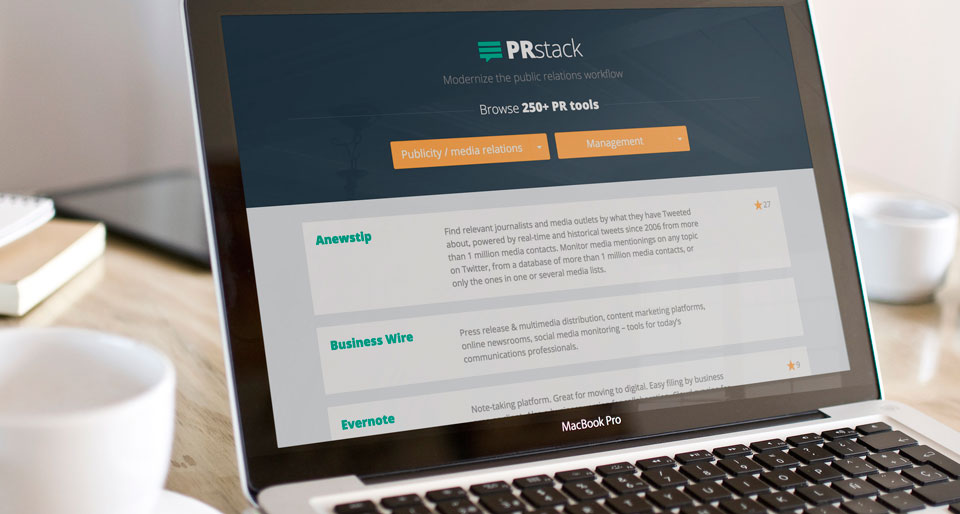 I made a list of 10 boring tasks that you can automate.
2. Have tech testing moments
Embed tech testing in your organisation. Award winning agency Battenhall has learning lunches every Thursday. Each week another team member presents new tools or opportunities. It helps them keep a finger on the pulse.
3. Get ambassadors
The people that present tools will become its champion. They're the early adopters that can spread the enthusiasm with the rest of the team. Encourage these ambassadors to follow up and give them the freedom to try their new tools.
4. Invite a geek from your team
Programmers or system administrators will look at your workflow problems in a different perspective. Invite them to your workflow improvement sessions. Make sure to keep the "yes hat" on though, because nothing can kill enthusiasm over ideas like over-analytical technical discussions.
5. Invite vendors in
Learn first-hand about tools from the people that build it. Vendors are often open to coming over for a show and tell. It's a win-win: the vendor gets product feedback and meets a potential client. The communications team gets to discover technology that can make their work easier. Both get a free lunch.
6. Invite an expert
You could also invite experts over for a presentation about PR tools. Hire seasoned PR trainers like Philippe Borremans or Stuart Bruce to jumpstart your workflow improvement efforts. Paying for training will make sure that you invest time and it increases the chances of following through.
7. Try fast
Avoid analysis paralysis. Refrain from listing the pros and cons of tools up front. Also refrain from asking permission from your boss. First, try if it feels good. Do a small test and see if the software helps you to be faster or better. You'll be able to make a much better case if you decide to roll the solution out to the rest of your team.
8. Do a risk-free pilot
Using a brand new tool for an important project might not be the best idea. In times of stress people too often revert to their old ways of working.
Trying a project management tool? Use it to plan the next office party, for example. If it works well for a small team, the enthusiasm will spread through the organisation much more than via an email directive from the CEO.
9. Educate the team
Demonstrate to team members how the tool will make their lives easier or add value. Danny Whatmough, head of Social, EMEA at Weber Shandwick, told us that implementing new tools requires education around how it is used and how every person can get the most out of it. If the value to the individual isn't properly communicated the technology will fall flat.
10. Use a software requirements checklist
In big organisations the procurement and IT team will want to have their say. Most developers of Software as a Service (SaaS) are allergic to this. Their business model is built around repeatability: they have one software solution that they sell to all their clients. Getting stuck in long sales processes gets in the way of improving their software for all clients.
Speed up the procurement process by having a compact software checklist. This is a list of security and product requirements that your team needs. It will make it easier to measure up the tool and to get started.
Get started now
Ask your team to list their most painful tasks. Armed with the PRstack list of 250+ tools you'll most likely find many time savers that will allow you to focus on the work that really matters.
---
This post originally appeared on the PRstack website.
---