With digital service Soulcenter we want to help care facilities strengthen the relationship between staff and inhabitants with dementia.
Challenge: tighten bond between caregivers and residents in care homes
In Flanders, in 2010, there were 100,000 people with dementia. In 2020, that figure will be 130,000. For a month I immersed myself in a care facility in Zonhoven, after being invited by researchers of Dementia Lab. I learned that staff members in care homes are under pressure. Their packed schedule often makes it difficult for them to find the time or energy to get to know the residents, causing frustration. Also, it's difficult to build relationships with residents who have dementia because they often have a hard time telling their own story.
Intervention: app to help family share the lifestory of residents with caregivers
We co-created an application that invites family members to record the life stories of their loved ones, alongside an application for staff members to help them get to know these stories. 
The video below shows the first application intended for families.
Initial experiment: internship in care home
For a month I worked in a caretake facility in Zonhoven together with the research team of Dementia Lab. Below are several video reports of what we learned.
The posters that we use to structure our process are from the service design toolkit.
In week two I invited fellow designer Tijs Vrolix to help look for ideas on how to improve the relationship between people with dementia and their caregivers.
In week three, we prototyped a first solution and tested it with caregivers and family of the people with dementia.
The responses were positive. Both from the researchers from Dementia lab, and from the care givers. The project resonated so much with me, that I couldn't let it stop at just a pretty prototype. It had to be built and used.
Minimal viable product: student hackathon
Together with Open Knowledge Belgium we secured funding to build that initial app during a one-month summer student hackathon, the Open Summer of Code. A month later, we launched the app during World Alzheimer's Day. Flemish public television joined us to learn more about the app.
Here's an overview of that one-month long hackathon with students.
Pilot with 25 care homes
Almost 1.000 people started using it on the day of the launch. Wow. All of that for a quickly hacked together solution that was far from finished.
This needed to continue. I found a care home in my street and spent a day per week there to co-create solutions together with one of the students.
We came up with a freemium business model and I decided to go all-in on the project from the start of 2018.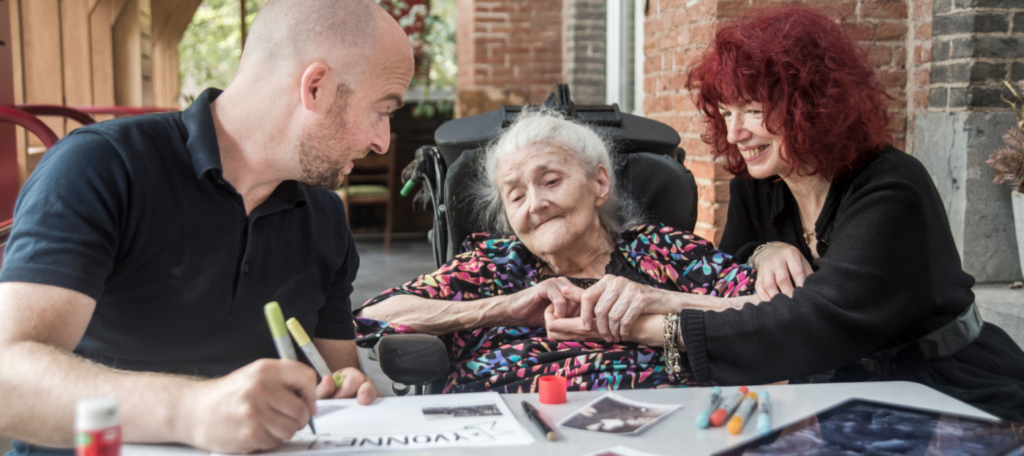 Fast forward a few monhts. We split the app into two apps. Prisma (a now defunct reminiscence app) and Soulcenter (a life-story app for people with family in care homes. I built a working web app for Soulcenter and we launched a freemium version during World Dementia Day.
Here's the teaser video for the app.
I launched the project on World Dementia day, and quickly 25 pilot care homes started using the product. The initial usage was terrible though. Here's an in depth analysis of the pilot project results. A change was needed. I still believed in the core mission and pivoted from software aimed at families to a professional service for care homes.
Pivot: software as a service for care homes
Two co-founders came aboard. An expert in care homes and a developer. Together we found and onboarded our first customers a few months later and continued our journey of co-creation in and with care homes.
For example, when co-founder Stijn joined, we spent a week living together in a care home.
Content marketing machine
The software kept evolving because we learned more about the sector. You can find the software offering on https://soulcenter.be.
You can find the majority of our learning publicly on our website. Video lessons, webinars, self-service workshops, guides, branded tools and so on.
The story continues on https://soulcenter.be.